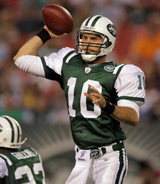 College Years
As a freshman at UT in 2004, Ainge threw 17 touchdown passes in 9 games, breaking Peyton Manning's freshman TD record of 15. His 1,452 passing yards ranked second behind Manning in UT freshman history. Ainge split time for much of the year with Brent Schaeffer, who later transferred to Ole Miss. After an injury just before halftime against Notre Dame, Ainge was replaced by former University of Tennessee quarterback Casey Clausen's brother Rick.
In 2005, his sophomore season, he threw 5 touchdown passes and 7 interceptions. One of his most infamous moments was in a game against LSU where he was being sacked by LaRon Landry in the end zone, and flung the ball up into the air just before he was ruled down for a safety. Ainge's head also hit the goalpost on the play, tweaking his neck. As a result, Senior QB Rick Clausen took over. Ainge finished his sophomore season with a strong performance and a win at Kentucky.
As a junior in 2006, Ainge was named the starter heading into spring practice, and for the first time in his career was able to take all of the first team reps throughout the preseason. Ainge also had a new position coach and offensive coordinator when David Cutcliffe replaced Randy Sanders. He led his team to 7-1 record before being injured in the closing minutes of a game against South Carolina. He would then miss the majority of the next two losses for Tennessee before returning to lead his team to season-ending wins against Vanderbilt and Kentucky. During the season Ainge would set career highs in most statistical categories and break the Tennessee single-season record for completion percentage. He now owns a 17-5 record as a starter. The 2007 Outback Bowl was the first bowl appearance for Ainge. Ainge missed the 2005 Cotton Bowl Classic due to injury, and the Vols did not qualify for a bowl game following his sophomore season. On March 8, 2007 it was reported that Ainge would have to undergo surgery for a torn meniscus. Ainge stated that the injury occurred during weightlifting exercise. However, he was able to recover in time for the 2007 season.
As a senior in 2007, Ainge passed for 3,522 passing yards and 31 touchdowns with 10 interceptions. Despite throwing 513 passes his senior year Erik was only sacked 3 times. He completed 62.6 % of his passes and had a 135.48 QB rating. Ainge was able to achieve this success despite nagging injuries which hampered him all season, including a broken pinky finger on his throwing hand and a shoulder injury on his throwing arm. The strongest statistical game for Ainge was a 52-50 triple-overtime win over Kentucky in which Ainge threw 7 touchdowns and 397 yards and his Bowl win over Wisconsin (Outback Bowl) in which Ainge threw for 365 yards and two touchdowns. Erik also lead Tennessee to a 35-14 victory of Nationally ranked Georgia in which he completed 17 of 22 passes. "My time at Tennessee transformed me from an amateur football into somebody everyone knew around the country. I learned a lot, and loved my 4 years at Tennessee."
Professional Career
Ainge was selected in the fifth round (162nd overall) of the 2008 NFL Draft by the New York Jets. In May 2008, Ainge underwent surgery on the little finger on his throwing hand. On July 16, he signed a four-year, $1.87 million contract with a $165,000 signing bonus.
On November 21, 2008, Ainge was suspended four games by the NFL for violating the league's policy on steroids and related substances. Ainge, already on injured reserve and out for the season with a foot injury, was not allowed to be with the team or visit the team facility during the suspension. He was able to rejoin the team December 15, 2008, following the New York Jets' game against Buffalo.
Ainge was expected to compete with Kellen Clemens and Kevin O'Connell for the final quarterback roster spot on the team in 2010. It was later announced that Ainge had entered "a drug treatment/rehab facility for 'recreational issues'," marking the second time he had violated the NFL's substance abuse policy.
Ainge made an announcement to The Associated Press on June 23, 2011, stating that he would retire from the NFL due to injuries sustained to his throwing shoulder and right foot. The Jets officially released Ainge on July 29, 2011.